DIANE VON FURSTENBERG Resort
Loving the edgy romance vibe and the sporty, bright layers


LOUIS VUITTON Resort:
A mix of Mod and Hippie. The LV girl can't just pick one!
It was all about prints! Inspired by collaborator Sofia Coppola

's current home, Paris. I love the colored penny loafers throughout the collection.
Practical suits are flirty and fun, yet accessible.
LOVE LOVE LOVE the bow gladiators being the huge bow enthusiast that I am.
YVES SAINT LAURENT Resort
Nautical is the name of the game. Going for the sailor theme for Resort Season may drag this collection down like an anchor for most, but YSL can do me no wrong.
CHRIS BENZ Resort
Loving the whimsical prints, edgy vibe, and wooden accessories.
JASON WU Resort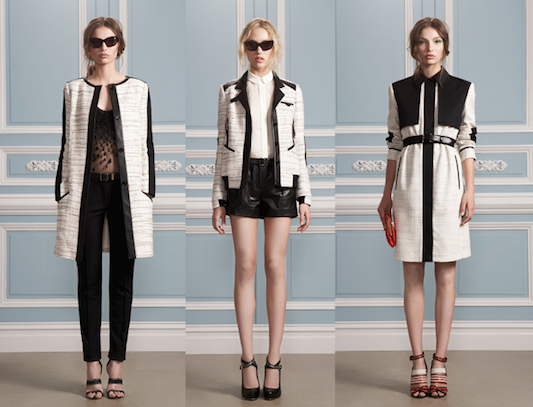 Summer suits a la Wu. Menswear done right on ladies. Perfection.
Wu goes on a Puerto Rican getaway. His sandy tones infused with neon yellow, coral, and electric blue accents are fantastic!
CHLOE SEVIGNY for OPENING CEREMONY Resort

There are those gorgeous shoes she wore to CFDA Awards!
Angel and Devil match-up. Pick your poison. My favorites were mostly from the "hellish" side which perhaps suggests where I fall on that paradox. I love leather & lace. But leather that's lace? I see a new friendship forming.